⬅ Return to collection
Historical Memorabilia : Music & Pop Culture : Vintage
This item has been sold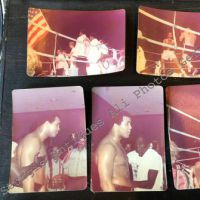 Very Rare 37 Original Photos of Muhammad Ali Richard Dunn June 1976 Fight
Sturgis Antiques is very proud to have these historic and amazing pieces of Muhammad Ali Memorabilia

37 Original Photos of Muhammad Ali in 1976 fighting Richard Dunn.

"Muhammad Ali and Richard Dunn fought a boxing match on May 24, 1976. Ali won the bout by knocking out Dunn in the fifth round. The fight is remembered for being the very last time Ali would knock down any opponent in the ring in his boxing career."

Original prints from a private collection, the printing marks on the back of the photos June 1976, printed on a texture paper.
Each photo is a piece of Ali history, from what I can identify
Dr. Freddy Pacheco
Cassius Clay Sr.
Brother Rahman Rudy Clay
Lewis Sierra
Sports announcer- Dick Enberg
Angelo Dundee
Drew Brown
Pat Patterson
Richard Dunn
and of course Ali

Size: 3 1/2 x 5 inches
Condition: Near perfect and unmarked images.

Note:
These are sold as group, they came to me this way and my client wants to keep them as a group.

If you have any questions or if you need additional images, please feel free to email me.





Detail photos Click to enlarge