⬅ Return to collection
Art : Posters : 1900-1940s
This item has been sold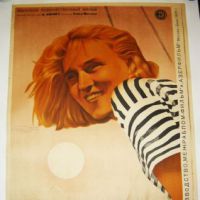 Very Rare Anatoly Belsky Movie Poster "U samogo sinego moray" By the Bluest of Seas 1935
Very Rare Anatoly Belsky Movie Poster "U samogo sinego moray" By the Bluest of Seas 1935

Anatoly Belsky:
Nationality Russian (1896- 1970)

Place of Birth : Moscow
By the Bluest of Seas
"Soviet romantic comedy film by Russian director Boris Barnet. It is his second sound feature. Starring Yelena Kuzmina, Nikolai Kryuchkov, and Lev Sverdlin, the story centers on a love triangle between two castaways and a woman from a collective farm on a Soviet Azerbaijani island in the Caspian Sea."

Size: approx 94 x 62 cm. (37 x 24.4 in.)
Condition: Fine, the poster has been professionally mounted to linen, small area of in paint on the edge.

If you have any questions or need additional images, please feel free to email me.


Detail photos Click to enlarge