⬅ Return to collection
Vintage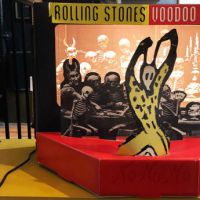 Very Rare and Near Perfect 1994 Promo 3D Light Display Rolling Stones Voodoo Lounge
The Rolling Stones album Voodoo Lounge was released in July 1994 and here is a very nice and rare and hard to find in this condition Light 3D Box Promo Display.
The cardboard is in near perfect condition, most of these were beat up and used and fell apart, but not this one.
The light is original to the display and the bulb appears to be original too!.
The album was A Virgin Records release and they went all out for the band.

The image of the skeletons and devils are from the French 'Diableries' (which translates roughly as 'Devilments') stereoviews, the photographs were portray sculpted clay vignettes which depict scenes of daily life in Hell.

The center, forward figure is a cardboard dancing image and the combined dimentionalism of the figure and the light makes this a great addition to a music collection.

Size: measures 15 inches tall by 20 1/2 inches long and 13 inches deep
Condition: Near mint, with minor abrasion on the backside, the center figure has minor wrinkle at the base of the figure and the back panel as a minor curl to the page, I have left this alone and have not altered the piece.
The light is original and the cord is perfect. Please see the images provided for more details.

If you have any questions or need additional information, please feel free to contact me.

SHIPPING: Due to the fragile nature of the piece, the item will need to be double boxed and I will do my very best to ensure a sturdy and secure shipping of this item.

Noted:
Overseas buyers please email me for shipping quote, please provide me with a shipping address and postal code.
Detail photos Click to enlarge