⬅ Return to collection
Out Of Print : Rare & Unique : Mid-century
This item has been sold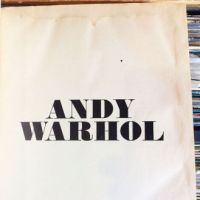 Very Rare Andy Warhol Exhibition Catalog for Moderna Museet in Stockholm 1968 Third Edition 1970
Andy Warhol. Published on the occasion of the Andy Warhol exhibition at Moderna Museet in Stockholm, February-March 1968
Stated Third edition 1970
Soft cover with silkscreen front and back cover.
Edited by: WARHOL, ANDY, KÖNIG, KASPER, HULTÉN, PONTUS, GRANATH, OLLE,

Size: 11.30 X 9.50 X 1.50 inches
condition: binding is tight with no markings or writing inside. There is some water damage to the edges of the paper and to the edge and top of the first 15-20 pages. The Binding is tight but slight chipping to the top and bottom of the soft cover's binding. There is a small tear to the top front edge of cover. Please see images for details.


Moderna Museet, Stockholm, 1970. Soft cover. Book Condition: Very Good. vg-plus softcover. Kasper Konig, Pontus Hulten, Olle Granath (editors)! Massive photo collection of the Factory. Over 300 b/w photos. Edited by Andy Warhol, Kasper Konig, Pontus Hulten and Olle Granath.
Published on the Occasion of The Andy Warhol Exhibition At Moderna Museet in Stockholm February To March 1968.
Colorful stiff wrappers depicting flowers. 15 pp. text in English (and Swedish) with 400 pages showing over 300 black and white photographs.
This is the 3rd edition from 1970 and is rare in any edition due to fragile nature of this book.
There is no text except for some of Warhol's famous quotes and 100's of b&w photos of his work and wonderful photos of his superstars, life and work at the factory and stills of Lou Reed, John Cale, Nico and other notable figure and hanger ons at the Factory.

This is an amazing book with images that will have you going back over and over again!!

If you have any question or if you need additional images, please feel free to contact me.

Detail photos Click to enlarge