⬅ Return to collection
Art : Folk Art & Outsider Art : Historical Memorabilia : 1800s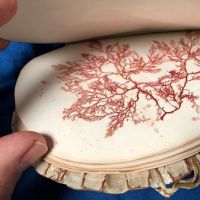 Victorian Era Pressed Seaweed Herbarium Made From Large Scallop Shell 12 Pages Circa 1900
12 pages of pressed seaweed with a large, 5 1/2 wide scallop shell with silk ties as the binding and the silk tie as the fastener.
The first page is decorative wreath made of flowers and the following pages are very fine pressed seaweed. NOTE, one page the seaweed has disintegrated away, only the ghost of the seaweed and a tiny piece is left.
This has been in the estate since it was made, the family lived near the water in Maryland.
Pressed Herbarium books were very popular young people as well as the "explores" of the late 1800's/ early 1900s. The time when the rich were traveling, the "Grand Tour" and the boom of the middle class. At the same time the rise of eduction for the sake of eduction , ie, Johns Hopkins Univeristy, allowing women and men to get an eduction just to get an education.
These simple pressed Herbarium were an example of this new found freedom and knowledge that was growing in America and in other Industrialized countries.

Size: 5 1/2" x 5"
Condition: Very fine with one specimen deteriorated. All the other pages are intact and in very good condition. The shells are fine with the back having a small chipped corner. The silk ties are fine with some signs of use but they are original to the book. Please see the images for more details.
If you have any questions or if you need additional images, please feel free to contact me.

Note:
Over seas buyers please contact me before purchase with postal code to get a shipping quote. Shipping cost posted is for Domestic shipping only.
Detail photos Click to enlarge