⬅ Return to collection
Antique Furniture : 1800s
This item has been sold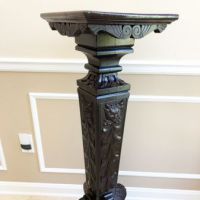 Victorian Brass with Wood Ball Claw Footed Wood Stand with Grotesque Faces and Oak Leaves 1800's
Victorian Brass with Wood Ball Claw Footed Wood Stand with Grotesque Faces and Oak Leaves
Year: Circa 1890's
Material: wood with brass feet


The Grotesque face of the Victorian era, seen on so many pieces but we are still drawn to them. These faces were an outgrowth of the religious catholic churches. The churches, using lore, fear of the dark and evil's of man and the fear of wrong used these faces to embrace the church, as a sign of the church protecting but also having these ornateness on the outside of the buildings was a metaphor. A metaphor of the world, the evils and horror of the world but inside the protection of the the religion, a sanctuary to the world.
The history of the catholic church is long but a point needs to be made that the churches in Britian, France and Central Europe was first a pagan religion and churches built upon these magical and religious sites as the new religion took hold. So makes sense the figures of the pagan's would creep into the imagry.
The Victorian era, embraced the new burgeoning religion motif and style and hence the grotesque figure, like this one finds it on many pieces of furniture.

Size: 39" tall
Condition: Very good, the piece has been cleaned and restored to as close as original as possible and cleaned. The stand is slightly loose but will hold your Art or plant or whatever object of beauty you want to put on it. One horn is chipped off and some abrasions to the wood. Minor wood separation to the top . Please see images for details.

If you have any questions or if you need additional images, please feel free to email me.

Note:
shipping cost is for US only, if you are an over seas buyers please email me your shipping address to get a shipping quote.



Detail photos Click to enlarge