⬅ Return to collection
Art : 1900-1940s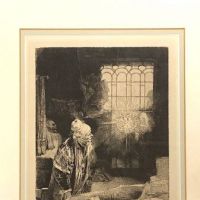 Vintage Dr Faustus in His Study Etching by Rembrandt Framed Circa 1930s Mechanical Etching
Dr Faustus in His Study Etching by Rembrandt Framed Circa 1930's
Dr Faustus in His Study Etching by Rembrandt.
This image has been used on countless book covers dealing with the Occult.
Rembrandt's etching of Dr. Faustus has become synonymous with the Mystic and Occult. When Rembrandt did the this etching, circa 1652, the image had nothing to do with the character Dr. Faustus, it was just a name given to the image. The original title and subject and meaning has remained a mystery. The Old man knowingly gazes at the alchemistic disc that floats in the corner. If you look closely at the detail you can see a hand that comes out the darkness and points to the reflection. This etching is one of the many states that are reported in the catalogue raisonne of Rembrandt, the image was altered a few times by the artist and printed.
This mechanical etching is circa first quarter of the 20th c., the paper is not a old stock paper but from the 20th c.
Size: Framed the piece is 14 x 16 inches
Image Size 7 14 x 9 1/4 inches
Condition: The print is framed behind glass with archival board, framed in c. 1980's. The image appears fine with no damage to the image. Please see the images provided for details.
If you have any questions or need additional images, please feel free to contact me.
The item is framed behind glass and the price is for shipping with the glass, for safer and cheaper shipping I can remove the glass, please email me before purchase to get a new price on shipping.
NOTE:
Shipping is for US only, if you are an international buyer, please email me with your mailing address to get a shipping quote.
Detail photos Click to enlarge