⬅ Return to collection
Mid Century Design : Mid-century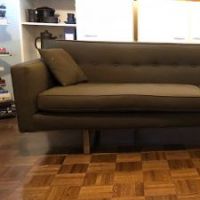 Vintage Mid Century Designed Edward Wormley for Dunbar Bracket Back Sofa With Knoll Fabric Circa 1960
The Same Estate that had the Finn Juhl NV45 chairs comes this amazing Edward Wormley Designed Bracket Back Sofa.
The chairs had the same Knoll Fabric on the the chairs and the previous owner had the sofa covered in classic Knoll wool Fabric.
Click the link here: SOLD Finn Juhl Chairs
Edward Wormley "(December 31, 1907 – November 3, 1995) was an American designer of modern furniture. In 1926 he went to study briefly at the Art Institute of Chicago. Funds ran out and he went to work as an interior designer for Marshall Fields & Company department store. During the Depression, Wormley was introduced to the president of Dunbar Furniture Company of Berne, Indiana, who hired him to upgrade their product line."
Dunbar Furniture "Since its founding in 1910, DUNBAR proves that authentic design enabled by craft has proven to be an honest guide through time. DUNBAR's relationship with Edward J Wormley spanned over three decades and produced one of the most relevant contemporary design archives in history."
Size: 92" long x 30 1/2" deep x 27 1/2" tall back
Condition: The sofa is in fine condition, I have photographed all visible damage. The legs have moderate wear from years of use, the vacuum has hit the front legs and left small slight marks. The Fabric is fine with no visible rips and has not been professional cleaned. The foam is still firm but is approx 30-35 years old. I have included photos of all the details. If you need more images or have specific questions, please feel free to contact me.
NOTE:
Due to the size this item will need special delivery and can not be shipped but will need transportation. Please contact me before purchase with a address to get a delivery quote. Delivery will be handled by a professional mover and transport company. If you have a special carrier, please provide me with your specified transport.
Detail photos Click to enlarge