⬅ Return to collection
1970-Contemporary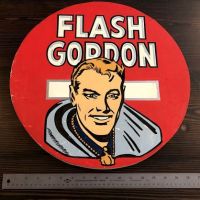 Vintage Flash Gordon Comic Hand Painted Wood Sign Circa 1980's Advertising Sign for Comic Shop
A vintage hand painted wood sign for Flash Gordon Comic Book, most likely painted for a store or an advertising piece.
The painting is hand done, it is not a screen print.The sign is painted on a 3/4 inch think plywood board cut.
The board is not cut perfectly round and the edges are not finished.
The lettering and face are hand painted, details show that the painter had an illustrator background or had a natural skill. You can see that on the lettering and face, the whole sign is free hand, the outline of Flash Gordon and lettering is done by hand.
The top and bottom have two small holes, either from where the sign hung or something was attached, a frame possibly.

The back has an added frame wire to hang with two eyelets. The bottom of the wood is stamped, Antiques Man.

Note: the antique man has been a mainstay in Baltimore for all things weird and truly unique. The store sold oddities and sideshow items back when no one cared. Anything coming from the Antique Man is always pretty great, their hours were only by appointment and if you knew them. There were two Antique Man, the original store was sold to a friend of Antique Man over 15 years ago.
Size: 17 5/8 inches wide.
Condition: very fine with light marks, scrapes at the bottom of the painting. Colors are bold and strong and no cracks or damage to the wood. Please see the images for more details.
If you have any questions or if you need more images please feel free to contact me.
NOTE:
The price listed is for US. If you are an overseas buyer please email me your shipping address before purchase to get a shipping quote.
Detail photos Click to enlarge