⬅ Return to collection
Other : 1970-Contemporary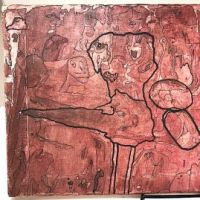 Vintage Psychedelic Drug Painting Circa 1970's Unknown Artist
A Psychedelic Vintage 1970's Drug Painting

Not signed or dated but the canvas and stretchers are older, circa 1960's-1970's.

I put this painting in the Music and Culture section due to the possible influence the music and of course the time period, counter culture movement and experimentation of drugs had on the artist.
The painting is truly trippy and wacked out painting, with melting screaming faces and figures morphing. The tonal light transparent red, a pinkish color, is brushed over the thick black lines.

Details of faces melting and movement has had me trying to cypher this trip the artist was on and it has been fun for me.
I got this piece in a client's house about 6-8 years ago. According to the estate, their friend did it he said in the late 60's or 70's, he was in his 80's when he told me. By the look of the canvas and stretchers, appears to be the 1970's

Size: 14 x 24 inches
Condition: fine. No tears or holes. Slightly soiled from hanging, the painting has never been cleaned. Please see the images for more details
If you have any questions or if you need more images please feel free to contact me.
NOTE:
The price listed is for US. If you are an overseas buyer please email me your shipping address before purchase to get a shipping quote.
Detail photos Click to enlarge