⬅ Return to collection
Medical & Oddities : Mid Century Design : Mid-century
This item has been sold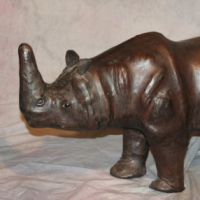 Vintage Leather Rhino Footstool Like Abercrombie and Fitch
Have you ever wanted to be that Great Hunter of days past? Have you ever wanted cool vintage abercrombie and fitch pieces? Have you ever watned to put your feet up on an animal's back? Well now you can with this great vintage all leather abercrombie and fitch style Rhino footstool.
All leather with glass eyes, the piece has some wear but still able to support a load.
Size: 14" tall x 26" long
Condition: slight wear to the leather but in good shape. The tail looks to have been repaired at some point but still intact.

Please note I have placed him next to a piece so you can get a sense of scale. This chair will be also coming up for sale if you are interested. Please email if you are interested.

If you have any questions or need additional images, please feel free to contact me.

Detail photos Click to enlarge