⬅ Return to collection
Art : 1900-1940s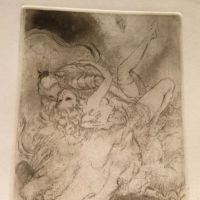 Vintage Stone Lithograph Style of Louis Icart Erotica Art Deco Era Two French Lovers On A Sofa
Vintage Stone Lithograph Style of Louis Icart Erotica Art Deco Era Two French Lovers On A Sofa

Vintage Stone Lithograph with deep impression marks
The page is unsigned but has a very small "EH" in the top left corner of the image.
Year: Unknown edition
Artist: Unknown Etched on the lower right "HD"
Medium: Stone Lithograph on heavy paper

This great Louis Icart style Art Deco Erotica image is a dream like vision of a man and women embarrassing on a French sofa. The image is done in a quick gestural style. The woman's leg are up in the air with a shoe flying off her foot.

Size: 8 3/4 x 11 3/8 inches

Condition: Very fine with no visible damage to the paper of image. Please see the images provided for details.

Detail photos Click to enlarge