⬅ Return to collection
Antique Accessories : Art : Mid-century
This item has been sold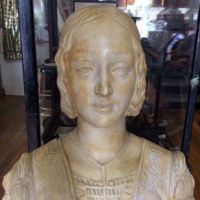 Vintage Terracotta Bust of Young Italian Renaissance Woman Circa 1950's
Terracotta has been used through the Century, its ease and readability made this medium popular, especially in Renaissance Europe and then again in modern times. This revival of medium lends itself to giving a classical look without the cost of a piece that is 5oo years old.
This piece, circa 1960's is a terracotta piece, most likely a export from Italy in the 1950's-1960's is from a mold, as you can see from the pour hole at the top of the head. The Terracotta is painted in a basic undercoat of white.

The subject is a popular one, a young portrait bust of a woman of royalty with a slight smile.

Size: 17" wide x 19 1/2" tall
Condition: Fine with small chip on the front, please see images for details. The right side has some candle wax. The piece is painted white but has slightly yellowed and the varnish on the face has started to yellow as well.

If you have any questions or if you need additional images, please feel free to email me.

**NOTE**
Due to the weight and size, shipping will be slightly higher.

Detail photos Click to enlarge