⬅ Return to collection
[uncategorized]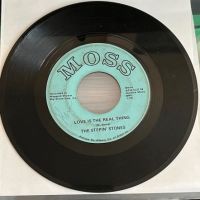 Virginia Garage Single The Stepin' Stones Love Her Tonight b/w Love Is The Real Thing on Moss
The Stepin' Stones Love Her Tonight b/w Love Is The Real Thing on Moss ACA1237.

Not a lot know, the band recorded in Big Stone Gap, VA and the record is on Moss, this is the band's and label's only release.
Regardless the single is A side a slower number but the B SIDE is the garage single, more a boogie but still a good rare single


LISTEN HERE
SIDE 1

SIDE 2


Condition: Vinyl is high VG, visible marks but sounds very good as soon as the needle goes on. In breaks slight surface heard but music is still present and clear with no distortion to the vocals or high ends. SIDE 2 plays with slightly heard surface, slightly below and sometimes at music, still good tones. Visually both sides have marks, no tracking issues on either side, visually grade is low VG. Labels are Vg, slight soiling on both sides and name on one side small in pen. Sleeve is generic white.
If you have any questions or if you need additional images, please feel free to email me.

Note:
shipping cost is for US only, if you are an over seas buyers please email me your shipping address to get a shipping quote.
Detail photos Click to enlarge