⬅ Return to collection
Art : 1900-1940s
This item has been sold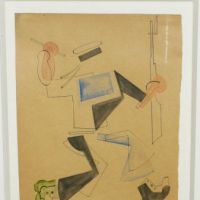 Vladimir Vasilyevich Lebedev Dancing Soldier or Running Soldier Circa 1920s Gouache On Paper
A new estate has been very gracious about having me represent their collection of WPA, Russian Constructivist and early 20th Century art collection. Located in NYC, the art will remain with them or if you need a viewing, please contact me for questions.
First is a great Russian Constructivist gouache on paper of a soldier. The soldier captured in a pose of movement, is executed in the early Russian Constructivist style.
Vladimir Vasilyevich Lebedev, (Russian: May 1891 – 21 November 1967) had long career of artistic creations and illustration work. He was titled "King of Children Books" with a huge output for published magazines.
This gouache appears to be from this period.
The back of the frame has the gallery stamp with information from Barry Friedman ltd. gallery and was purchased from the gallery, circa mid 1980's.
The piece is framed behind glass, I have not taken the piece out of the frame.

Size: 8 x 5 1/2"
Condition: VG, mounted with floating hinge top left and right. I have not taken the page out of the frame.

NOTE:
I have photographed this piece behind glass, any damage will be noted. There is a refection in the photos, please not that is not on the art but in the photography.

If you have any questions or need additional images, please feel free to contact me.
Please email me before purchase to arrange pick up and or a shipping quote.

Detail photos Click to enlarge