⬅ Return to collection
Medical & Oddities : 1800s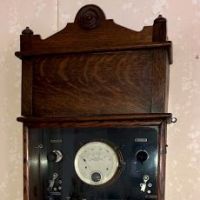 Waite & Bartlett  Electrotherapy Wall Mount Machine in Oak Cabinet Circa 1910
Electrotherapy Wall Mount Unit in Oak Case by Waite & Bartlett, cracked front glass. Includes instructions with letterhead of Waite & Bartlett.
Galvanic, Faradic and Combined Currents Wall Cabinet No. 19 in the 1910 Waite & Bartlett Co Catalogue.
I have included a photo from Kuenzig Books that had a image from the catalogue reproduced.
The use of electrotherapy goes back to the mid 1700's but was not used widely till the late 1800's. Early uses of electricity to help cure or stimulate parts of the body became a specialized business and a cure all for "what ails you" explosion in the late 1800's with all types of machines invented for every and all types of problems.
Of course the earliest use of electricity is of course in the story by Marry Shelly's Frankenstein and the use of electricity to bring to life dead tissue, which was a "modern" medical theory of it's time in the early 1800's. Later the use of electricity would be part of the health craze of the late 1800's and of course in the use of therapy used to "help" certain medical issues.
This machine use of Galvanic: galvanism which was the therapeutic use of direct electric current
Faradic: Faradic current is a short duration interrupted direct current with a pulse duration ranging from 0.1 to 1 ms with a frequency of 50 to 100 Hz. Faradic current is surged to produce tetanic contraction and relaxation of the muscle.
The machine really did it all with every type of switch and light you can imagine and a large center meter to pin point your accuracy in you r therapy.
The machine would be mounted to the wall, like it is in my client's house.
Included is the metal tray, located in the storage drawer on the cabinet. Also included are original pages with use and direction along with an original letter head of Waite & Bartlett. Please see the images for more details
The Cabinet is a very nice oak cabinet with a glass fronted door, as you can see the glass is cracked on the bottom but is not loose or falling out, please see the images for more details.
Size: 15 3/4" x 35 1/2" tall
Condition: The cabinet has a cracked glass door, but the oak cabinet is in very good condition and is the original shellac finish. The cabinet has added wall mounting brackets on the top and bottom sides. Please see the photos for more details. If you have any questions or need additional images, please feel free to contact me.
If you have any questions or if you need additional images, please feel free to email me.

Note:
This item is heavy and will require special packing. The price is for extra padding in a large box.
shipping cost is for US only, if you are an over seas buyers please email me your shipping address to get a shipping quote.
For safety reasons, pick up is available and or special delivery. If you would like a quote for special delivery, please send me your mailing address prior to purchase to get a shipping quote.
Pick up is free
Detail photos Click to enlarge