⬅ Return to collection
Vintage
This item has been sold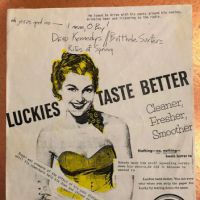 Washington DC Punk Flyer Dead Kennedys Rites of Spring Butthole Surfers 1985
I will be working on a new collection of Punk archives and will be focusing on mostly flyers at this time.
I will mark each of these flyers with this message.

1985 and Dance of Days was in full swing in DC and one of the best bands of this era was the amazing Rites of Spring (future Fugazi members). The bill is also filled Butthole Surfers ( a year after their debut lp Psychic... Powerless... Another Man's Sac) and we all know them and their discography, Dead Kennedys.


Band: Dead Kennedys
Butthole Surfers
Rites of Spring
Year: April 29th 1985

Location: Wust Radio Hall
8th & V Street

Size: 8 x 10

Condition: fine, with minor edge wear and slight wrinkle. The flyer was used so there will be some wear due to age and use.

If you have any questions or if you need additional photos, please feel free to email me.
Detail photos Click to enlarge