⬅ Return to collection
Mid-century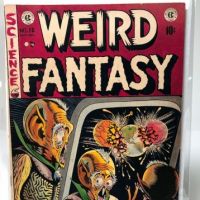 Weird Fantasy No. 16 Nov-Dec 1952 Published by EC Comics Also Known as 16B Al Feldstein Cover Precode Horror
**Sames Estate as the other Pre Code Comics listed**

Title: Weird Fantasy No. 16 (Also know as No. 16B)
Date: Nov-Dec 1952
Published by EC Comics
"Al Feldstein classic outer space cover. "Mass Meeting" (art by Joe Orlando), "Skeleton Key" (art by Al Williamson), "What He Saw" (art by Jack Kamen), and "The Green Thing" (art by Orlando). The letters page comments on EC's Ray Bradbury adaptations with a disingenuous implication that the author approved them from the beginning. As is well-known now, Feldstein swiped the stories without authorization, but Bradbury called them on it, and soon an agreement was worked out in which EC paid Bradbury for the adaptations."
Condition: The Cover very crisp details and minimal signs of use, very light storage marks, lower right corner has a tiny and small chip. The bottom left has a very small chips to the edge and lightly on the spine. Slight and minor pulling at the staples and a small mark on the spine in the center. Light wrinkle on the top right corner and very light mark on the top of spine. The back has very light marks for use and storage. Lower left has small chip to corner and light mark on the spine at the center. No marks or damage inside and the binding still very tight.

If you have any questions or need additional information, please feel free to contact me.
Note:
Over seas buyers please email me for shipping quote, please provide me with a shipping address and postal code.
Detail photos Click to enlarge