⬅ Return to collection
Mid-century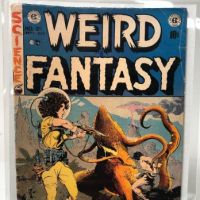 Weird Fantasy No. 21 October 1953 Published by EC Comics Rare Frazetta Cover
**Sames Estate as the other Pre Code Comics listed**
Title: Weird Fantasy No. 21
Date:
Published by Cross Comics
"Cover by Frank Frazetta. The Cover is "My Home" (art by Joe Orlando), "Saved" (art by Al Williamson with Roy Krenkel), "Planely Possible" (art by Jack Kaman), and "The Million Year Picnic" (pencils by John Severin, inks by Will Elder; based on the story by Ray Bradbury). Letters to the editor from comics writer Archie Goodwin and Bradbury praising "King of the Gray Spaces" in issue 19. Classic cover by Williamson/Frank Frazetta."
Condition: The Cover has strong colors with some wrinkles to the edges, small stamp mark in the "F". The right has slight wear at the top with a wrinkle. The bottom edge does show some chipping. The staples show some pulling and slightly stressed but intact. The Back has chipping at the edge. Pencil number on the top right. The Inside is VERy Clean with bold and strong cover and the pages are tight.
If you have any questions or need additional information, please feel free to contact me.
Note:
Over seas buyers please email me for shipping quote, please provide me with a shipping address and postal code.
Detail photos Click to enlarge