⬅ Return to collection
Vintage
This item has been sold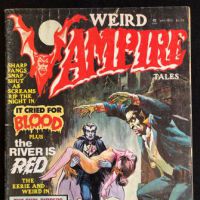 Weird Vampire Tales Vol. 3 #1 Horror Comic Stories From Pre-Code Horror Eerie
** Same Estate as the other Horror Comics**

Title: Weird Vampire Tales Vol. 3 #1
Date: May 1971
Published by Modern Day Periodicals
Condition: Cover is Vg with with signs of wear and scuffing. Biding is tight and back cover is good with some soiling. If you need more image please tell me what areas you need photographed.

Size: 8 1/2-in. x 11-in., 48 pages

Stories and art by Hector Castellon, Antonio Reynoso, Torre Repiso, Ruben Marchionne, Enrique Cristobal, Martha Barnes and Oscar Fraga. Legendary publisher Eerie's fondly remembered tales of horror and the macabre, many "reanimated" from classic pre-Code horror comics with new art. A two-timing nightclub owner learns he never should have crossed the dancer called Gata the Cat Girl. After a fire at a club, a dead dancer returns for one last shimmy. A necromancer is invited into a cult of evil, but the price of membership is high. Vampire; Like Blood, The River Is Red; Evil Cat; The Open Grave; It Cried for Blood; Deadmans Dance; The Monster; Blood Cult; Tombstone for a Ghoul; The Skin-Rippers; Crypt of Superstition: Ring Against Evil!; Superstitions. 8 1/2-in. x 11-in. 64 pages

If you have any questions or need additional information, please feel free to contact me.

Noted:
Overseas buyers please email me for shipping quote, please provide me with a shipping address and postal code.
Detail photos Click to enlarge