⬅ Return to collection
Art : Mid-century
This item has been sold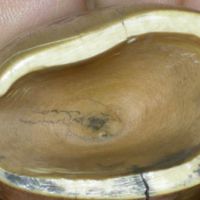 Whale Tooth with Scrimshaw of Tall Ship Sperm Whale Tooth
I have had these Scrimshaw Sperm Whale teeth in the store before and I have always been a fan of the art of the Scrimshaw.
The art style goes back to the 1700's in this country and much further back to any indigenous group of people who fished. They used the remains and byproducts of sea creatures they harvested as decoration, rituals and as the canvas of art, the Eskimos are a perfect example. The most famous Artists of scrimshaw were the 19th Century Whaler off the coast of Massachusetts. They documented their ships, experiences whaling, and as mementos to love ones back at home.
This piece is not as old as the 19th Century ones I was speaking of but the style and look is here. The tooth is hard to date but by the age and color of the tooth I would say, approx. mid 20th Century and the Scrimshaw is approx. the same age.
There are no signatures or dates on the tooth, but the ship does have an American Flag on the mast.
The tooth has a chip at the top section and the base has hairline cracks, I assume the tooth was dropped at some point and fractured the tooth. The measurements are approx. 4 1/2" high.
If you have any questions or need additional information, please feel free to contact me.

Detail photos Click to enlarge