⬅ Return to collection
[uncategorized]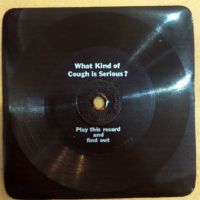 What Kind of Cough is Serious? 4" Square Record Advertisement for Pertussin Syrup 1930
"What Kind of Cough is Serious?
Play this record and find out"
4" square record, advertisement for Petussin Cough Syrup, circa 1930.

Made by: DURIUM ADVERTISEMENT AND CUSTOM RECORDS. The 5000 series was produced in the US and made for the US market, the 1000 series were made for the export market.

Condition: I have not played the record, no visible scratches but was stored in a box for years. Possible surface noise.
Size: 4" square

If you have any questions or need additional images, please feel free to email me.