⬅ Return to collection
[uncategorized]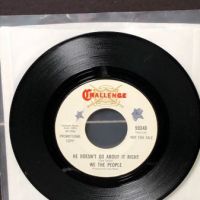 White Label Promo of We The People You Burn Me Up And Down / He Doesn't Go About It Right on Challenge Orland Florida Garage
We The People You Burn Me Up And Down / He Doesn't Go About It Right on Challenge – 59340 White Label Promo
We the People were an American garage rock band from Orlando, Florida that were formed in late 1965 and professionally active between 1966 and 1970.
This is their 3rd single and not a far cry from their first single Mirror Of Your Mind.
The band was on Challenge, "US record label founded in 1957 by a quartet of investors headed by silver screen cowboy Gene Autry" and had some great garage bands under their name.
The band had hits of Yardbirds and Nazz but like most Florida bands, they had more fuzz and great stomp beats. What a great single!!
Listen Here
SIDE 1

SIDE 2

Condition: Vinyl is NM-, sounds great, no tracking issues and the vinyl is full luster. SIDE 2, sounds amazing and plays at NM-. Sleeve is Generic white.
If you have any question or need additional images, please feel free to contact me.
NOTE:
International orders. Shipping will be $25. Please contact me before purchase if you are an International buyer. I will need to adjust the shipping price to reflect a correct shipping cost to you.
Detail photos Click to enlarge