⬅ Return to collection
[uncategorized]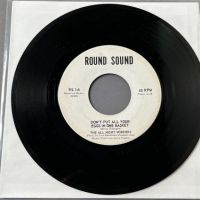 White Label Promo The All Night Workers Don't Put All Your Eggs In One Basket b/w Why Don't You Smile on Round Sound John Cale and Lou Reed
The All Night Workers Don't Put All Your Eggs In One Basket b/w Why Don't You Smile on Round Sound RS-1 White Label Promo.
"The All Night Workers featured Otis Smith with Lloyd Baskin and Mike Esposito, who were Syracuse-area buddies of Lou Reed. Baskin went later on to Seatrain, and Esposito went to the Blue Magoos."
The important aspect for the Velvet Underground fans is the flip side of the single. The B-side posts writing credits of Lou Reed and John Cale. In 1964 both Cale and Reed would write the novel hit, Do the Ostrich by the made up band The Primitives. A short year later they would write Why Don't You Smile for the Pickwick subsidiary label Round Sound, the label's one and only release.
Listen the the Lou Reed and John Cale track on SIDE 2
SIDE 1

SIDE 2


Condition: Vinyl is low NM-, both sides play and sound great, no tracking issues and very clean. SIDE 2 has very light paper scuffs but does not effect the tracking Labels are high Vg+, very clean with tiny soil but very minor on SIDE 1, SIDE 2 is equal and has Radio Station Stamp. Sleeve is generic white.
If you have any questions or if you need additional images, please feel free to email me.

Note:
shipping cost is for US only, if you are an over seas buyers please email me your shipping address to get a shipping quote.
Detail photos Click to enlarge