⬅ Return to collection
[uncategorized]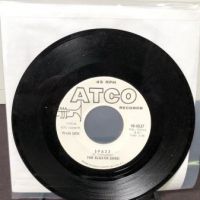 White Label Promo The Elastik Band Spazz on ATCO Records 1967 California Garage
The Elastik Band Spazz on ATCO Records – 45-6537 White Label Promo. Atlantic is not slanted.
The band started in 1965 and were from San Fransisco California. Their fist single was 1967 on Atco and moved to Kapp on their next two singles.
This single was their first and most notorious single "breaking" the band on the market but in a backlash of sort.
That didnt stop the fact that the music is still a catchy as hell track and is on Greg Shaw's first Pebbles Comp of his favorite garage tracks.
Listen to the tracks
SIDE 1

SIDE 2


Condition: Vinyl is low Vg+, Visually the record is very clean, has light crackle at the start and drops to low but can be slightly heard. Great sound with dynamics and separation, no tracking issues and both sides play equal. Label is very clean. Sleeve is generic white.
If you have any question or need additional images, please feel free to contact me.
NOTE:
International orders. Shipping will be $18. Please contact me before purchase if you are an International buyer. I will need to adjust the shipping price to reflect a correct shipping cost to you.
Detail photos Click to enlarge