⬅ Return to collection
[uncategorized]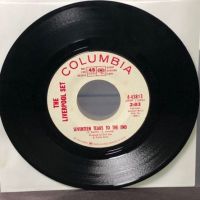 White Label Promo The Liverpool Set Seventeen Tears To The End b/w Change Your Mind on Columbia Garage Record 1966
The Liverpool Set Seventeen Tears To The End / Change Your Mind on Columbia 4-43813. White Label Promo.
Year: 1966
A Canadian band that had their first single in 1965 on Columbia. The band had three singles, the last two singles released in 1966.

This really nice white label promo from 1966, the A Side is a rave up Beatles type song but faster and rawer, more in the vain of the Yardbirds but this is not a copy, a fast paced fuzzed out guitar with a lot going on! The first song has the stops and starts giving it the stomp of a great garage song. Wow!!
The B side, a Buddy Holly type song but filtered through Kinks. Not the fuzz but still a solid and great song!
Take a listen to both tracks"
Side 1

SIDE 2

Condition: Vinyl is Solid VG+, sounds amazing as soon as the needle goes now. Very clean sounding with a tiny and faint and sometime surface can be heard below the music. Amazing tone, great bass and fuzz. SIDE 2 plays at solid VG+. Sleeve is white generic.
If you have any question or need additional images, please feel free to contact me.
NOTE:
International orders. Shipping will be $18. Please contact me before purchase if you are an International buyer. I will need to adjust the shipping price to reflect a correct shipping cost to you.
Detail photos Click to enlarge