⬅ Return to collection
Posters : 1900-1940s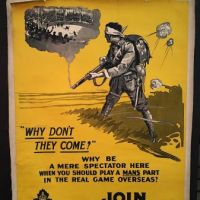 Why Don't They Come? Join the 148th Battalion WWI Canadian Recruitment Poster 148th Battalion Pub. by J.J. Gibbons Limited
Why Don't They Come? Join the 148th Battalion WWI Poster
Title: Why Don't They Come? Join the 148th Battalion poster.
Year: c.1914-1918.
Published by: Montreal ; Toronto ; J.J. Gibbons Limited
The Artist is unknown
The 148th was a unit in the Canadian Expeditionary Force during the First World War. Based in Montreal, Quebec, the unit began recruiting in late 1915 in that city and the surrounding district. After sailing to England in September 1916, the battalion was absorbed into the 20th Reserve Battalion on January 8, 1917. The 148th Battalion, CEF had one Officer Commanding: Lieut-Col. A. A. Magee
A WWI stone litho poster for recruiting of Canadians to fight in WWI. for Poster shows soldier in battle with vignette of hockey game rising from his smoking rifle.

Condition: chipping at the top edge, some wrinkle on the left side. The Poster is mounted to linen, an older linen which is thinner. This poster has been stored for many years and by the age of the linen circa 1960's. Please see the images provided for more details and a visual description of the poster.
Size: 27 1/8 x 41 1/2 inches
If you have any questions or need additional information, please feel free to contact me.
Note: Over seas buyers please email me for shipping quote, please provide me with a shipping address and postal code.
Detail photos Click to enlarge