⬅ Return to collection
2nd Edition : Modern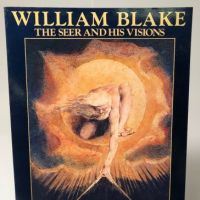 William Blake The Seer and His Work by Milton Klonsky 1977 Soft Cover Edition Pub by Harmony Press 2nd
William Blake The Seer and His Work by Milton Klonsky Harmony Books 1977 Soft Cover
Title: William Blake: The Seer and His Visions
By: Milton Klonsky
Published by: Harmony Books
Year: 1977
Soft Cover edition
2nd edition
William Blake, the mystic, poet, occult writer and Hemtic man, gave us poetry to our dreams. The book explores the many mediums of the artist, his small and colorful Songs of Innocence, to his etchings of religious orders and Saints. The book gives you a great introduction and pictorial voyage of this very secret of the 18th century, 1757-1827.
Size: 9 x 12 inches
142 pages
Condition: As new with slight bump on the bottom edge of the cover, top of spine has a small bump, but does not effect the binding and is very slight, as new condition. Small pencil mark on the back page of date when bought, 1977. If you have any question or if you need additional images, please feel free to contact me.
NOTE:
Shipping price listed is for US buyers only.
If you are an over seas buyer, please contact me with your mailing address before purchase to get a shipping quote.
Detail photos Click to enlarge