⬅ Return to collection
Art : 1800s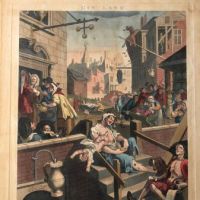 William Hogarth Hand Colored Etching of Gin Lane Pub. by G. G. and J Robinson in 1800 T. Cook Engraver
William Hogarth (10 November 1697 – 26 October 1764) was an English painter, print maker, pictorial satirist, social critic, and editorial cartoonist.
His work was… "Influenced by French and Italian painting and engraving, Hogarth's works are mostly satirical caricatures, sometimes bawdily sexual, mostly of the first rank of realistic portraiture. They became widely popular and mass-produced via prints in his lifetime"

I have two pieces, done circa 1800 and are very sought after, The Beer Street and Gin Lane have become very collectible over the past years. I am happy to have both in hand colored versions done after his death.

I will be selling them separate but they will make a great set. Please feel free to inquire
Gin Lane

Publisher: G. G. & J Robinson, London
Year: 1800
Engraver: T. Cook

Description: With more Hogarth pictures, so many subtle jabs and mocking jokes are prevalent. Pawn Broker sign on the left and the Coffin maker's shop on the right, and above that has a man hanging. The juxtaposition of the Gin distiller's is on the right. The Death and decay of the scene is epic. Please see the details for a visual description.

Size: 14 1/2 x 19 inches

Condition:
Gin Lane- top right cover is shipped, slight water stain to top right corner. The print has aged, the color is strong and bold. Please see images for details.
Beer Street- water stains on the right side, does not effect the image. The paper has some aging, the colors are bold and strong

If you have any questions or if you need additional images, please feel free to email me.
Note:
shipping cost is for US only, if you are an over seas buyers please email me your shipping address to get a shipping quote.
Detail photos Click to enlarge