⬅ Return to collection
Mid-century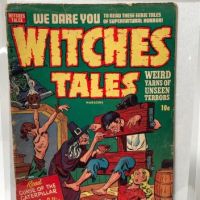 Witches Tales No 5 November 1951 published by Witches Tales Subsidiary of Harvey Comics
**Sames Estate as the other Pre Code Comics listed**
Title: Witches Tales No 5
Date: November 1951
Published by Witches Tales Subsidiary of Harvey Comics
"Stories and art by Bob Powell, Vic Donohue and Rudy Palais. A showcase for Harvey's distinctive brand of pre-Code horror. A photo clerk uses black magic on the subjects of the photos he develops. Evil caterpillar-creatures populate a remote inn. A washer-woman discovers her legacy of witchcraft from a Salem ancestor: magic gloves. Bondage cover by an unknown artist. The Spell of the Black Gloves; Share My Coffin; The Clinging Phantom; Curse of the Caterpillar. 32 pages, Full Color."
Condition: The Cover has some wear and chipping at the top edge of the cover. The left has wrinkles and tape on the middle section of the spine edge, pulling and wrinkles at the staples. Spine tear to the top 1/4 of the cover. The Back has soiling to the back with tape on the right side in the middle. Some staining and pencil marks on the back from child. Edges have some chipping on the left. The binding is tight, there is a tear at the spine edge of binding and it goes through all the pages. The colors are bold and slightly discoloring to the pages.
If you have any questions or need additional information, please feel free to contact me.
Note:
Over seas buyers please email me for shipping quote, please provide me with a shipping address and postal code.
Detail photos Click to enlarge