⬅ Return to collection
Mid-century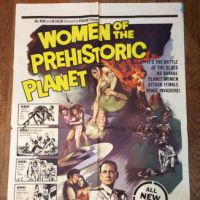 Women of The Prehistoric Planet Original Movie Poster One Sheet 1966 Sci-Fi B Move
Title: Women of The Prehistoric Planet
"Its the Battle of the sexes as savage planet women attack female space invaders"

Year: 1966
Size: One sheet, approx. 27" X 41"

Condition: some wear, and fold tears. Please see pictures for a visual description.

Plot:
"A spacefaring crew from an advanced civilization is preparing to return home after an extended voyage. The crew includes "humans" (represented in the film by Caucasian actors and actresses) and "Centaurians" (represented in the film by Asian actors and actresses). The Centaurians have been rescued from their home planet after a catastrophic event, not explained in the movie, has devastated their planet. They are being brought back with the spacefaring explorers with an expectation that they will be assimilated into their new parent culture. One of the ships in the fleet is hijacked by a few of its Centaurian passengers and crash-lands on a prehistoric planet in the "Solaris" system. Countermanding orders, the rest of the fleet returns to search for survivors after the crash. In the film's "twist," by the time that the rescuers (traveling at fast sublight speeds) are able to return to the planet, they are encountering the descendants of the original crash survivors - explained in a simplified version of time dilation. Linda, a Centaurian from the rescue ship, falls in love with Tang after he saves her from drowning. After fighting with the planet's indigenous species (1960s-era special effects including giant iguanas meant to represent dinosaurs), Tang and Linda are marooned on the prehistoric planet - the latter revealed to be the captain's own daughter. In the film's coda, this savage and primitive planet is revealed to be Earth."

If you have any questions or if you need additional images, please feel free to email me.


Detail photos Click to enlarge