⬅ Return to collection
Art : Mid-century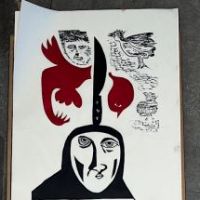 Woodcut by Paul Ojeda with Poem by Chilean Poet Diplomat Pablo Neruda Dated 1975 and Numbered 4/25
Woodcut with poem by Pablo Neruda Titled Old Woman By The Sea Numbered 4/25 and Signed on the Right and Dated.
"Naúl Ojeda (1939-2002) who trained at the University of Uruguay, School of Fine Arts in Montevideo, Uruguay. In the early 1970s, political repression in Ojeda's homeland led to his living and creating his art in France, Chile, Mexico, and ultimately the United States. He lived in Washington, DC for almost 30 years before his death there in 2002."

Pablo Neruda "(12 July 1904 – 23 September 1973), was a Chilean poet-diplomat and politician who won the 1971 Nobel Prize in Literature. Neruda became known as a poet when he was 13 years old, and wrote in a variety of styles, including surrealist poems, historical epics, political manifestos, a prose autobiography, and passionate love poems such as the ones in his collection Twenty Love Poems and a Song of Despair (1924)"

Ojeda "was a photojournalist who spent time in Chile documenting the campaign of President Salvador Allende from 1969 through the coup d'etat in September 1973", this where he became associated with the Neruda.
The Woodcut has the poem in English and Spanish.
The imagery of the piece is the surrealist style of Ojeda but the long vertical printing is not typical of his work.
Size: approx 36 x 16 inches. (precise measurements will be coming)
Condition: Very fine with no toning or damage to the print. There is light soiling at the edges of the paper but does not interfere with the image. Please see the images for more details.
If you have any questions or need additional information, please feel free to contact me.

Note:
Overseas buyers please email me for shipping quote, please provide me with a shipping address and postal code.
Detail photos Click to enlarge