⬅ Return to collection
Rugs : Modern
This item has been sold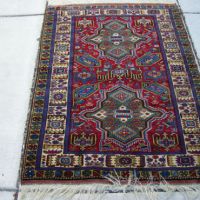 Wool Kayseri Turkish Rug 45 x 66 inches Strong Rich and Vibrant Colors
A new client has brought a collection of rugs. Her and her husband lived on a boat and traveled all around the Mediterranean for a few years. I will be posting more rugs and will identify them as from the same estate.

The first rug up is this one:

A Wool Kayseri Turkish Rug 45" x 66" Strong Rich and Vibrant Colors
The rug is circa 1980's, no wear to the pile or marks on the rug.

If you have any questions or need additional images, please feel free to contact me.

Detail photos Click to enlarge