⬅ Return to collection
Art : 1900-1940s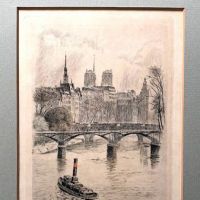 WPA Era Etching of Tug Boat and Barge Unsigned Hand Colored Childe Hassam Style
This and other etching and Lithographs will be available through Sturgis Antiques from one collection and will be noted from the same collection.
A very nice etching, circa 1930's in a WPA style in the style of Childe Hassam
The tug boat pulls a barge up the the river heading towards a bridge with a city in the background. A typical scene would be a New York skyline but this smaller city feel more intimate but still retaining the WPA theme of city life.
Hand colored and very subtle, the smoke stack of the tug boat and the trees have very light watercolor and highlights.
The bottom edge of the paper under the mat is titled " Mount Dougherty Fri"
There is a large watermark on the bottom right of the paper and is hard to read but "Purth" can be made out, please see the images for more details.
Size: page is 5 1/2 x 8 1/2 inches
Condition: the etching is very clean condition but is mounted to the backing board. I can not remove the paper from the board. If you have any more questions please feel free to contact me.
Please feel free to email me for more images or if you have any questions.
NOTE:
International orders, please email me your shipping address before purchase with your address to get a shipping quote. The shipping price is for US buyers only.
Detail photos Click to enlarge