⬅ Return to collection
Art : Historical Memorabilia : Military Memorabilia & Art : 1900-1940s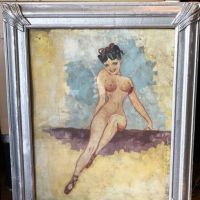 WW II Bomber Nose Art of Nude Pin Up Girl Circa 1940's Oil On Board
I have never read a definitive answer of why the bombers and the crew of the air force would paint the WW II Bombers with nudes and or cartoons. Many of the paintings of Micky and Donald and other characters had comedy mixed with steadfast stance and resistance and grit and yet some of the planes had nude or pin up girls on the noise of the planes.
I am sure a parallel of naming a ship or a vessel a woman's name carried over through the century to WW II and beyond. I am also sure these young men missed their loved ones too. I dont want to go too far into the male the psyche of a 18-20 year!
Oil on Board of a young nude woman, in the style of the 1940's pin up girl. The painting is not dated or annotated with who the artist. The age is circa 1940's due to aging and soiling of the board and the style of the pin up girl.

The estate has no background of the painting and has been in their family's house for many years.
The painting is in a silver, mostly likely silver radiator paint, frame and the painting is behind glass.

Size: Framed 21 x 25 1/2 inches
Canvas Board 16 x 20 inches

Condition: some soiling to the board but no damage to the image. The edges of the board are dog eared, please see images I have provided.

If you have any questions or if you need additional images, please feel free to email me.

**Note**
Due to the size and glass over the image, additional shipping may be required. Overseas buyers please contact me before purchase to get a shipping quote.
Removing the glass with decreas the chances of damage in shipping and lower the shipping cost. Please advice if you want a shipping quote with out the glass.


Detail photos Click to enlarge