⬅ Return to collection
Military Memorabilia & Art : Posters : 1900-1940s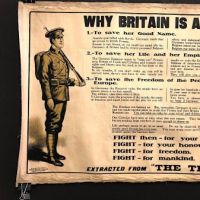 WWI Poster "Why Britain is at War" pub. by David Allen Mounted To Linen
"Why Britain is at War" published by David Allen mounted to linen
"Why Britain is at War" published by David Allen
The Poster is a Stone Litho poster and slightly different than other recruitment posters of WWI, which had a large central figure of fighting and or a person showing pride in defending their country. In this poster we have more statements of why Britain needs to be at war with Germany. A interesting and insightful window into this major battle in Europe.
Published by David Allen and Sons Harrow Midlesex England.
Year: Circa 1914-12
"…a British soldier stands facing right with his rifle shouldered. text: WHY BRITAIN IS AT WAR 1.- TO SAVE HER GOOD NAME Austria quarrelled with Servia. Germany made that an excuse to attack France. France is our friend, so we could not stand idly by. Germany and Britain had by treaty promised Belgium safety and independence. Germany broke this treaty by making war on Belgium. Belgium asked our help. Had we refused to help Belgium our name for honour would have been gone."
Condition: Chipping on the top edge of the poster and the some soiling to the edges of the poster and Linen. As you can see this is an order conservation style of a thin linen. There is some curl to the edges where the poster has come off the linen. Please see the images provided for details and if you if you need more images, I am happy to email you more.
Size:
If you have any questions or need additional information, please feel free to contact me.
Note:
Over seas buyers please email me for shipping quote, please provide me with a shipping address and postal code.
Detail photos Click to enlarge