⬅ Return to collection
Art : 1800s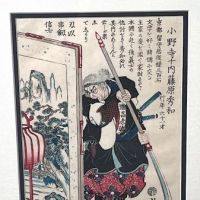 Yoshitoshi 1869 Woodblock from Pictorial Biographies of the Loyal Retainers No. 8 Onodera Jūnai Fujiwara
Tsukioka Yoshitoshi (Japanese, 1839–1892)
No. 8, Onodera Jūnai Fujiwara no Hidekazu from the series Pictorial Biographies of the Loyal Retainers by the Japanese woodblock artist Yoshitoshi hitsu.
The series was done in 1869 and is a Chuban size woodblock. (Chuban is the Japanese word used for a common, but not the most frequent ukiyo-e size of roughly 7.5 x 10 inches)
The Seal is by Kiri and the publisher is Marujin who was one fo the most active publishers of woodblocks, they were active from 1759-1872.
This series by Yoshitoshi is one of Marujin's later and almost last published pieces.
The Series has 50 pages and is the story of the forty-seven rōnin and is one of the best known stories in Japanese literature.
The story is of Forty-seven of Asano's samurai, led by Captain Oishi Kuranosuke, developed a plan to avenge their late master.
More can be found by searching "'Seichū gishi meimei gaden (Historical Biographies of the Loyal Retainers)."
Size: Framed with archival materials is measures approx. 14 1/2 x 11 3/4 inches
Condition: The frame is wood with glass and both are in near mint condition. The Mat is new, approx. 6-10 years old and is in very good condition with no fade. The Print is Very Fine with minimal signs of age and the colors are still very bold. Please see the images provided for more details.
If you have any questions or if you need additional information, please feel free to contact me.
Please note the shipping is for the woodblock with the frame and glass. For a cheaper quote I can remove the glass and doing that will also help prevent damage or breaking in shipping. Sturgis Antiques is not responsible for broken glass while shipping even though I take every measure to help prevent any damage while shipping.
Note:
Over seas buyers please email me for shipping quote, please provide me with a shipping address and postal code. Shipping overseas the woodblock will not be shipped with glass.
Detail photos Click to enlarge