⬅ Return to collection
Art : 1800s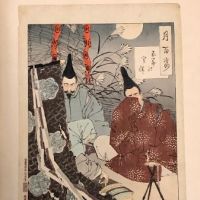 Yoshitoshi Meiji Era Woodblock from Series One Hundred Aspects of the Moon Lady Gosechi #51
Tsukioka Yoshitoshi (1839-1892) was one of the most influential artist of Meiji era Japan, his art took on a new look for the traditional woodblock style. His figures show an outward expression and action which was not typical of the traditional woodblock art. His figures show the range of emotions and movement that was copied after his popularity grew.

"His career spanned two eras - the last years of the old feudal Japan, and the first years of the new modern Japan. Like many Japanese, while interested in the new things from the rest of the world, over time he became increasingly concerned with the loss of many outstanding things from the traditional Japan, among them the classic woodblock print.
By the end of his career, Yoshitoshi was in an almost single-handed struggle against time and technology. As he worked on in the old manner, Japan was adopting the mass reproduction methods of the West, like photography and lithography. Nonetheless, in a Japan that was turning away from its own past, he almost single-handedly managed to push the traditional Japanese woodblock print to a new level, before it effectively died with him.
The moon appears in all but a few prints, providing a unifying motif for the series."
Artist: Tsukioka Yoshitoshi (1839-1892)
Series: One Hundred Aspects of the Moon - Considered his masterwork, Yoshitoshi's series One Hundred Aspects of the Moon features one hundred oban size woodblocks, published between 1885 and 1892.
Title: Lady Gosechi #51 in the series
This wonderful 100 Aspects of the Moon print depicts Lady Gosechi shown here dressed in nun's robes and playing the koto as two noblemen, moved by the haunting music, weep quietly. The word gosechi, meaning "five festivals," refers to formal musical rituals practiced at the court of the emperor. Lady Gosechi is thus a personification of the beautiful music associated with the past glory of the court.
The page is untrimmed, a rare find in the Japanese woodblock world, the woodblock has full margins, including notes at the margin.
The back has beautiful saturation, showing a excellent striking, note the bold blues coming through the back.
Size: Oban (10 x 15 inches)
Condition: very fine, light fold marks at the very edge of margins, very strong and dynamic colors throughout. Top right has light marks that go into the image slightly. Light toning at the edge of the paper. Back has pencil name of artist at the margin. Very strong and bold color throughout with no visible damage to the paper. Please see the images for more details.
If you have any questions or if you need more images please feel free to contact me.
NOTE:
The price listed is for US. If you are an overseas buyer please email me your shipping address before purchase to get a shipping quote.
Detail photos Click to enlarge