⬅ Return to collection
[uncategorized]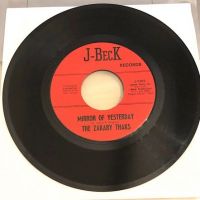 Zakary Thaks Mirror Of Yesterday / Can You Hear Your Daddy's Footsteps on J-Beck Records Corpus Christi Texas Garage Band
Zakary Thaks Mirror Of Yesterday / Can You Hear Your Daddy's Footsteps on J-Beck Records – J-1103.
The band was from Corpus Christi, Texas, and had their first single in 1966. The band was first a Surf Band called The Riptides but like so many bands the British Invasion came and changed music. The band is not just another copy of British Invasion but was a great full tilt American garage band with all the weird parts and grit associated with garage.
The label was called J-Beck, the label was from Corpus Christi and had the unstoppable and mind blowing band, The Bad Seeds.
Listen Here
SIDE 1

SIDE 2

Condition: Vinyl is mid to low VG+, has very low crackle, very low on both sides. No tracking issues. SIDE 2 plays equal to SIDE 1, with low crackle/ surface. Visual, both sides look very clean. Label is near perfect and clean. Sleeve is generic white.
If you have any question or need additional images, please feel free to contact me.

NOTE:
International orders. Shipping will be $18. Please contact me before purchase if you are an International buyer. I will need to adjust the shipping price to reflect a correct shipping cost to you.
Detail photos Click to enlarge